Carl Brablec High School


Class Of 1973
In Memory
Dan Ragle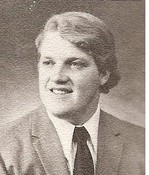 Deceased Classmate: Dan Ragle
Date Of Birth: 09-26-1955
Date Deceased: 07-19-2010
Age at Death: 54
Cause of Death: Heart attack
Classmate City: Indianapolis
Classmate State: IN
Classmate Country: USA
Survived By: Twin sister, Betty Brothers, Gary, Leigh, Tom and Bill

Dan (Dude) was not only the best brother but a dear friend. He had health problems for many years but always managed to care about others first. Dan worked for 20 years with United Airlines and was able to retire early, so in the last stage of his life, he was happy and enjoying his life. Dan was also very intelligent, loved anything to do with American History, politics and Geneology. Dan is buried in Raglesville Cemetery (in southern Indiana), the birthplace of our ancestors. I am attending the 40 year reunion as a memorial to Dude!