Carl Brablec High School


Class Of 1973
In Memory
Kenneth Paquette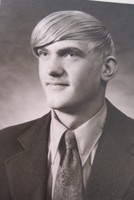 Memorial Tribute for my brother, Kenneth Paquette, class of 1973.
My brother, Kenneth Paquette, was born on September 14, 1955, and passed away on October 9, 2001, after suffering from heart disease for 11 years. It seems ironic that he needed a new heart because he had such a big heart. He loved everything living and always took care of stray animals. Even as a kid, all of the kids in our neighborhood knew if they found a hurt bird, animal, or bug, they could bring it to Ken and he would do his best to get it healthy. As an adult, he volunteered at the humane society, taking care of the animals. When a stray cat had kittens, he took care of them until they got bigger and then put an ad in the paper to find them a good home.
Ken was an electrician and his company would tell them what they needed a machine to do; he would design the machine, build it, and then train employees to use the machine. As a kid, he frequently re-wired parts of our house to do cool things. It was very interesting growing up with him. Ken also loved growing his own vegetables, camping, and being creative with wood.
Ken was married, but had no children. To my brother with a heart of gold – I love you and I miss you.
Kathy Cunningham